Get a digital copy of The
Hitman Blues Band's latest
album, "Not My Circus,
Not My Monkey"
For Just $9.95!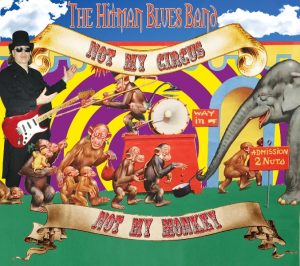 Not My Circus, Not My Monkey, performed by the New York based Hitman Blues Band, contains ten new original songs, and one cover (done in the Hitman Blues Band style).
Featuring captivating vocals, blistering solos, and a rhythm section pushing a consistently intense groove, it also boasts captivating lyrics ranging from light hearted to tragic. The recording starts off with "Not My Circus, Not My Monkey", a line you'll probably be using regularly from now on. This is followed by the tongue in cheek "Buy That Man A Drink", as it's far from an act of charity. Then comes a complete re-working of Blind Willie Johnson's "Nobody's Fault But Mine", including all new lyrics that stay true to the spirit of the original. Keeping with Mr. Johnson, there is "John The Revelator" performed in a unique Hitman Blues Band style – and imagining that other gods stop by and reveal their own end-of-times scenarios to John. The heart wrenching ballad "No Place Like Home" offers somber reflection, and then comes a version of Dylan's "The Times They Are A-Changin'" like you've never heard it before. The groove infused "You Can't Say No" is followed by the light hearted come-on of "Walk With You", which sets up the attempt to explain overpowering love in "You Don't Understand". The album takes a turn back to the late 1950's influenced "Everybody But Me", a comic take on hipster loneliness. The closing tune is the anthem for every artist who pushes on no matter what, "Go Down Fighting".
The Hitman Blues Band plays modern blues, which can be high energy, slow and soulful, or happy boogie. It's modern blues – blues of the 21st century.
Click the order button below and get your instant download copy of "Not My Circus, Not My Monkey". You'll see why this album shatters the notion of "They don't write songs for me anymore"
You'll receive a digital download of "Not My Circus, Not My Monkey" via email, immediately after placing your order!