Get a digital copy of The
Hitman Blues Band's
Album, "Playing To The Crowd"
For Just $4.95!
"A fun, solo outing by Hitman showing off his acoustic chops and off-beta"
– Blues Today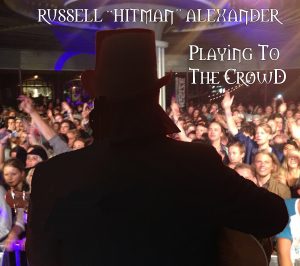 Playing To The Crowd, performed by the Russell "Hitman" Alexander of the Hitman Blues Band, contains five original songs and six covers of tunes he loves.  This ranges from Harry "The Hipster" classic song "Who Put The Benzedrine In Mrs. Murphy's Ovaltine" to an updated version of "Mole In The Ground", considered one of the precursors to bluegrass.
Hitman's humor shines through on songs like "Aging Out", bemoaning the ravages of getting old, and what is apparently a very wicked gentleman "Playing To The Crowd".  He's so good, you may never leave his establishment…
Click the order button below and get your instant download copy of "Playing To The Crowd". You'll see why reviewers from Blues In Britain, Blues Matters, Bluebird, Cashbox, and many others gives rave reviews like "The Hitman Blues Band will make you glad that music exists!" – MusikReviews

You'll receive a digital download of "Playing To The Crowd" via email, immediately after placing your order!