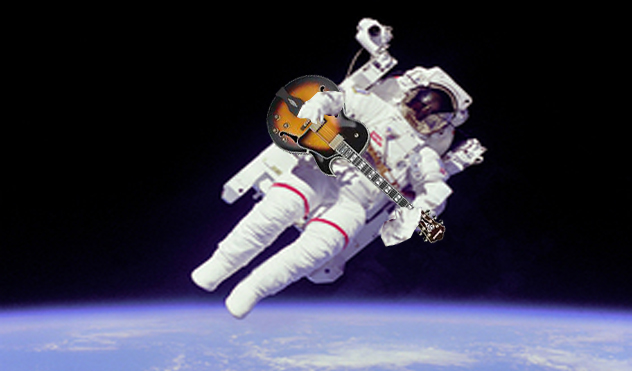 By now, you've probably heard our music, and (hopefully) it struck a chord with you (see what I did there?)  You may be wondering if this is just another band, here today/gone tomorrow.  Or if Hitman is really a dedicated musician or just a hobbyist. 
Well, here's a brief bio.  But if you clicked on the link in the email, you might want to just see the part that I said concerns you.  If so, skip down to here.
---
I always wanted to be a musician.
Ok, that's a lie. There was a period, when I was eight, when I wanted to be an astronaut.  Then a herpetologist, because I liked reptiles.  But my dad was a musician, and by the time I was nine I was back to wanting to play music.  And, I was told I was pretty good at poetry, and I particularly liked limericks and haikus (There once was a man from Nantucket…)  Long, wordy poems bored me, but I read everything I could get my hands on. Which I still do.
So at the age of 13, I had already been in a couple of kid bands as a singer, and done some little gigs.  Although Dad was a world famous jazz vibist and drummer, he also did "club dates" – weddings, corporate affairs, etc., because they paid well and we needed the income.  So I started taking guitar lessons from the late great Joe Monk.  I also became a "bandboy", the guy who drags in and sets up the bandleader's stuff and the PA.  Dad played drums with Stuart White, of Steven Scott music, and I spent hundreds of hours hearing songs ranging from Gershwin, Porter, and Berlin to then-current hits.  I couldn't help but learn them, just by repetition.  I also formed a series of bands with a friend, Doug Tow, and started writing songs.
By 16, I was playing club dates myself.  I also performed in a progressive rock band that played original tunes.  We never made decent money, or got the regular night club gigs the pop cover bands got, but I didn't care because the club dates paid well enough.  So while those bands played five or six nights a week, and had built-in crowds from the clubs, we played five or six times a month.  You see, the agencies did NOT want a band that played originals – period.  And, being stubborn, I refused to NOT play them.  But we had a good draw, and did some very cool gigs.
Fast forward a couple of decades.  I was still doing club dates, was married with children (good name for a tv show, right?), still writing, still trying for that brass ring by sending out original tunes to various publishers.  I had a house, a mortgage, and I hustled day and night to pay for it all, since I didn't have an actual "job".  I was a freelance musician.  And one day, I got a call from some guy who had a blues band.  Now, I had a vague understanding of the blues. Like every other guitarist alive, I had played "Red House" and "Stormy Monday".  But this guy had about 30 tunes, most of which I'd never heard before.
And I loved it.  Sure, I still loved all the other stuff, like Beatles and Hendrix and Stones, the Dead and ELP and Jethro Tull and Genesis, Slade and Alice and Zappa, and dozens of others – plus the jazz I grew up hearing.  But something about this music just got me.  I could honestly see myself playing this for the rest of my life, even as an old man.
And then Stevie Ray burst onto the scene, and eventually blues became "cool" again.  So I played all the clubs in the New York area – Nightengales, Dan Lynch, Kenny's Castaways, Chicago Blues (where I got my moniker of Hitman for the final time, and decided to keep it) and many more.  But after awhile, something started to bother me.
It was the same stuff, over and over again.  I mean, sure, I love the greats.  Elmore James, my guitar hero Johnny Winter, Slim Harpo, Muddy, BB, Buddy, Hooker, and probably another 50 names you may know.  But how many times can you play "Killing Floor", especially if you never actually worked in a meat packing plant?  And, I definitely WASN'T "born in Chicago in 1941".  I needed to do songs that reflected my somewhat (ahem) colorful life.
Like the supposed Chinese curse says, I've lived in interesting times.
---
So I started writing tunes taken from my life and experiences.  And I hoped that other people would hear them and relate.  Now, after six albums (seven if you count the solo album I did in 2017) it seems I've hit that mark more times than I've missed it.
Because I feel that's what it's all about.  Writing something that either helps someone celebrate a good time, or gets them through a bad time.  And, when we do a live show, the goal is give people a little break from life.  Something they can look back on and smile about, and think "I'm glad I was there."
My aspiration is that the Hitman Blues Band can give you that.  A little break, or a smile, or just knowing that someone has gone through a bad time and not only got through it, but got through it enough to write and record a song about it.
The blues is hope.
31 Comments